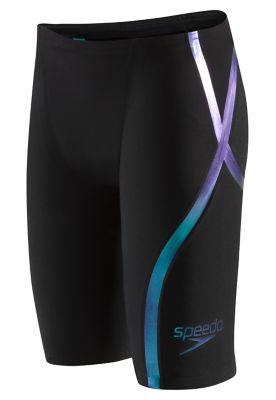 ADD TO CART
Leaves warehouse in 1-2 full business days
The Journey of Development
The Speedo Aqualab team carried out extensive 3D scanning of elite athletes all over the world, running computer simulations of athletes' shape, conducting research and calculations on drag and resistance, and thoroughly testing theories, findings and technologies.
Key Benefits
Higher
Compression
Reducing drag but increasing the muscles efficiency.
LZR Racer CompreX uses one way stretch technology, stretching vertically, allowing swimmers freedom of movement during their stroke. It is resistant to horizontal stretch providing high compression and reducing drag but increasing the muscles efficiency.
Maximized Support Seam Construction
Improving the linkage of the muscular kinetic chain.
The support seams enhance the link between muscles of the upper and lower body. They connect major muscles of the thigh, back and shoulders.
The support seam intersects at the hip bone, allowing rotation, then runs across the lower back with an identifiable 'X' shape. The construction of the seams provides feedback to the swimmer, helping to maintain a better position in the water and a high-leg kick.
Ready for Competition
CUSTOMER REVIEWS
QUESTIONS & ANSWERS
Comfortable
Quality Materials
Comments about Speedo LZR Racer X High Waist Jammer:
Suit has great compression and great along the waistline. Too bad that where the x on the outside crosses the suit does not press against your body. Instead, there are wrinkles which have to slow you down. Also, where the x meets the bottom of the leg, it bows outward. I really wanted to like this suit, but these things worry me.
Sizing:
Feels true to size
Comfort vs Style:
Comfort Driven
Was this a gift?:
No
Comments about Speedo LZR Racer X High Waist Jammer:
My son just finished Zones and was completely disappointed. Every Speedo tech suit seems to require a different size - 30 for a racing suit, 28 for a Fastskin, 26 for an LZR Elite 2, and now 25 for a LZR X - and it was still too big. Zone team recommended going with a step down from his normal, 28, and it swallowed him. The team overnighted a 25 and it was still too large. These suits are too expensive for trial and error! Recommend investing in a sizing mannequin.
Sizing:
Feels too large
Comfort vs Style:
Comfort Driven
Was this a gift?:
No