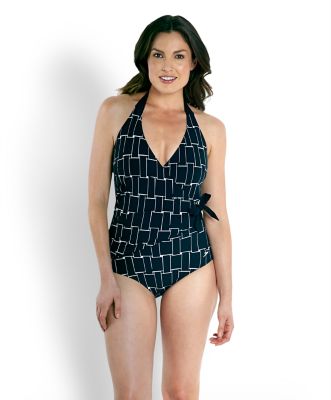 ADD TO CART
Leaves warehouse in 1-2 full business days
CUSTOMER REVIEWS
QUESTIONS & ANSWERS
Comments about Speedo Sculpture Simplyglow Printed Halter (Plus):
I have an older speedo suit that is my go to suit but is starting to show its age. I wanted another one that was similar but this suit, while the same basic style, has the built in control that makes it heavy and bulky. Very disappointing!
Fit:
Feels too small
Was this a gift?:
No
Comments about Speedo Sculpture Simplyglow Printed Halter (Plus):
I ordered this swimsuit to celebrate my recent weight loss (45 lbs so far, a few more to lose). I wasn't exactly sure what size to order since, in my experience, Speedo suits tend to run small. Since I am hourglass shaped, I ordered two different sizes. The pictures online were so cute and the suit's design looks like it would provide good coverage and still be stylish, however, when the suits arrived, I found the top of the suit provided no support whatsoever (I wear a D Cup) and tended to pull everything down (hello, grandma) and the leg openings created a sausage like appearance to my upper thighs. Now, I am no swimsuit model, but I would like to know how the girl in the picture got her upper half to look that good in this suit? I'm thinking she's had them done, because any normal woman wearing this suit will not get THAT look unless she has had them done or plans to wear duct tape at the pool. I ended up returning both suits and found an amazing tankini at a swimming suit store at the mall that actually supports the girls. Booyah!
Fit:
Feels too small
Was this a gift?:
No