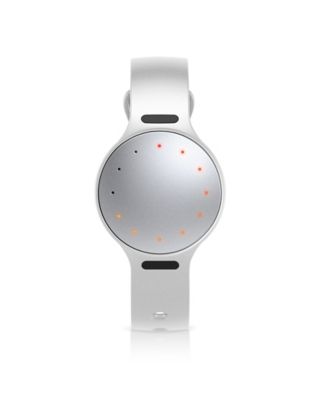 ADD TO CART
Leaves warehouse in 1-2 full business days
YOUR LIFESTYLE IN SYNC
Monitor your workout, from swim to sleep, with industry-leading accuracy validated by Speedo's Aqualab. Shine 2 offers more than fitness tracking. Our new enhanced IoT compatibility allows you to control connected devices, deliver calls and text alerts with vibration notifications.
Detachable Face
Easily remove the face anytime and place it in the accessory of your choice.
Dual Bands
Comes with classic black and white sport bands for you to choose from and custom-fit to your mood.
Magnetic Clasp
The built-in magnet lets you comfortably clip your Speedo Shine anywhere you want.
SPEEDO SHINE 2 FEATURES
Non-charging (Replaceable Battery Lasts up to 6 Months) Water Resistant to 50 meters
Versatile, Anytime Styling Vibration Notifications Smart Button IoT Integrations Swim Distance Tracking
Swim Lap Counting Swim Time Countdown Activity Tracking Sleep Tracking (Light Versus Restful)
Specifications
Shine 2 Material

: Anodized Aircraft-grade Aluminum


Sport Band Material

: TPU


Sport Band Action Clip

: Nylon


Clasp Material

: Nylon

Display

: 12 Multicolor LEDs


Water Resistant

: Up to 50 meters


Capacitive Touch-Sensor

: Yes


Vibrating Feedback & Alarms

: Yes


Watch Function (Clock)

: Yes


Smart Button Function

: Yes, using the Link App

Sensor

: 3-axis accelerometer and magnetometer


Measures

: Steps, Calories Burned, Distance, Swim Laps and Sleep Quality and Duration

Charging

: None


Battery

: Panasonic CR2032 coin cell


Battery Life

: Up to 6 months

Dimensions

: 30.5mm Diameter, 8mm Height


Weight

: 8.5g (with battery installed)
Sync Method

: Bluetooth Smart

Compatibility with the Misfit App

:
iPhone® 4s/5/5c/5s/6/6 Plus
iPod® touch 5
iPad® 3/4/Air/mini
Shine 2 Speedo for iOS app is compatible with devices
running iOS 7 and above and with Bluetooth 4.0 or later
Samsung Galaxy S® 4/5/6
Samsung Note® 3/4/5
Google Nexus 4/5/6
Android 4.3 BLE devices and above
Shine 2 Speedo for Android is compatible with devices
running Android 4.3 (Jelly Bean) and above with Bluetooth
4.0/Bluetooth Smart.
Shine 2 Speedo for Windows is compatible with devices
running Windows 10 Mobile with Bluetooth 4.0.
MOTIVATION AT A GLANCE
SET YOUR GOAL
Use points to easily measure all your activities.
TRACK YOUR PROGRESS
Tap your Misfit Shine to see how close you are to reaching your goal.
HAVE FUN WITH FRIENDS
Find your friends and view each other's accomplishments.
CUSTOMER REVIEWS
QUESTIONS & ANSWERS
Good size/fit (5)
Attractive (4)
High quality (4)
Lightweight (4)
At the beach (3)
Casual swimming (3)
Fit:

Feels too small

Feels true to size

100%

(5 reviews)

Feels too big
Reviewer Profile:
Athletic (4), Comfort-oriented (3)
Attractive Design
Battery Operated
Good Fit
High Quality
Lightweight
Thin
Water Proof
At The Beach
Water Aerobics
Comments about Speedo Shine 2 by Misfit:
I have joint issues and do water aerobics at least five days a week. I had searched for a water proof tracker for awhile. Then, I found the Shine 2. It is excellent! It does everything I had wanted: tracts water activity, sleep, links with a phone app...great. The box says it has a 6 month battery life- haven't gotten there yet- but love the fact that I don't have to plug it in to recharge it!!
Fit:
Feels true to size
Was this a gift?:
No
Attractive Design
Good Fit
High Quality
Lightweight
Comments about Speedo Shine 2 by Misfit:
Works great and tracks swims / laps perfectly!
Fit:
Feels true to size
Was this a gift?:
No
Attractive Design
Dries Quickly
Flattering
Good Fit
High Quality
Lightweight
At The Beach
Casual Swimming
Racing
Comments about Speedo Shine 2 by Misfit:
I use this in my everyday activities: swimming, walking, running, and sleeping. I love how accurate and interactive the app and watch are. It is very comfortable and stylish. I absolutely recommend this product!
Fit:
Feels true to size
Was this a gift?:
Yes
Comments about Speedo Shine 2 by Misfit:
First time used it popped out of strap and sunk to bottom of pool. Took several people 10 minutes to find it. Same day later in locker room fell out again. Returned for refund. Hard to believe that this problem hasn't been fixed since it was the most frequent complaint about the original Speedo Shine.
Poor Quality
Wears Out Quickly
Comments about Speedo Shine 2 by Misfit:
After one day of use the battery is dead. The shine 2 falls out of the band. Had to use a rubber band to hold it in the bracelet. Very disappointed with the product. Plan to contact customer service for a refund.
Fit:
Feels true to size
Was this a gift?:
Yes
Attractive Design
Confortable
Dries Quickly
Easy Changing Wrist Band
Flattering
Good Fit
High Quality
Lightweight
Secure Fit
At The Beach
Casual Swimming
Racing
Surfing
Comments about Speedo Shine 2 by Misfit:
I am a competitive swimmer and when I heard that Speedo and Misfit were designing a band for swimmers I was automatically hooked. I have watched every video about this band and knew I would love this band so I immediately pre-ordered it from Speedo. The Speedo Misfit Shine 2 came in the mail before I expected it (I was so happy) and I was so excited to open it. Speedo packaged this very well, it was wrapped in tissue paper (super cute tissue paper) then in a really nice, protective case. This is my second day wearing the band and I am so in love! So far I haven't had too many issues only a few with the app. If you have issues with the app detecting your band I recommend disconnecting your band and re-adding it the the app. :) I love how the band detects my touch and displays my progress and then the time. The colorful lights make the band so much cuter and easier to understand! This band is so customizable in the app and I love the accuracy. For example, I swan this morning for exactly 15 minutes and only did an 800 and the band picked this up to a T! I definitely recommend you get this band over the Misfit Shine 2 if you are a swimmer. You will have no regrets! If you have any troubles shoot Speedo an email and they will respond right away. Speedo is the best :)
Fit:
Feels true to size
Was this a gift?:
No